BIOGRAPHY
Biography
K
ent Olsson (b. 1958) from Västerås, Sweden, is an international award winning photographer who specializes in artistic landscape photography. His style is characterized by the Nordic light and melancholy. The images contain a painterly light and the atmosphere in the pictures resembles more about a graphic expression than just photographs.
Many of his images have been published reproductions and spread worldwide by among others; Amazon, Fine Art America and Reproductions de tableaux.
He is the family's third generation photographer and develops his interest in intimate landscapes and its details and textures. He studied watercolor techniques by including Bengt Ellis and together they spent many long hours in the Swedish Jämtland Oviksfjällen to try to catch the perfect light.
He has been awarded qualifications by the Society of International Nature & Wildlife Photographers.
Kent has had many solo exhibitions of his pictures and he photographs as he previously painted; direct, painterly and straightforward, with no frills.
Kent is also a freelance engineer specializing in digital filters for cameras and film cameras. He has since 1998 its name on several patents in the field, and his technique is used by among others; Disney, Time Warner, Avid, Pinnacle and many primary camera manufacturers and photographers worldwide.
"The first thing I was drawn to with this series of images, was his use of light and recognition of compelling scenes. Many of the images do indeed reference late 20th century landscape painting. The images have depth, implied narrative, as well as visual intrigue established with the use of light and cultivation of a particular mood."
–
Lens Culture, January 2017
Awards 2018, 19
Gold Award and 1st place in Sweden Black & White, One Eyeland, 2018
Silver Award worlds top 10 Black & White, One Eyeland, 2018
Three times highly Commended, The Societies of Photographers, UK, 2018
Four silver awards - Classic Landscapes, Better Photography, Australia, 2018
Six merits, International Print Competition, The Societies of Photographers, UK, 2018
Three images and a mention in the book "Best Of the Best Photographers 2018", Released 2019
Gold Award, The Societies of Photographers, UK, 2019
Artist statement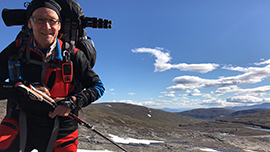 W
elcome and thank you for taking your time to visit this site which is about me and my images.
What you will see is the nature seen by my eyes and my lenses. I try to express the particular feeling I had during the photoshoot and if just a tiny, tiny bit of that feeling infect you while watching the pictures – I've succeeded.
My personal statement regarding any form of art is that the quality of the art can be measured in the
emotional response
from the audience and not by following rules during the creation process.
One of the most frequently asked questions I get regarding my photography is whether I've used "Photoshop" or not. Of course I've used Photoshop. That's obvious in today's photography, at least if you shoot using digital cameras.
Photoshop or similar software, are the modern times darkroom. But my images are not created by using Photoshop. I'm not a "digital artist" who creates images electronically. My images are created in the field using old fashion photographic technique. What you see in the image was there in the first place.
Even the great master Ansel Adams used that days "Photoshop". He often spent weeks and days in the darkroom, processing the image to perfection. But he needed the negative and a good composition to begin with. That have not changed today. No software or processing tool can replace a good composition.
A
gain, thank you for spending your precious time with my pictures and remember what the famous photographer Mr.
Arnold Newman
once said:
"Photography, as we all know, is not real at all. It is an illusion of reality with which we create our own private world."
Awards 2017
Nomination, Photographer of The Year 2017, The Societies of Photographers, UK, 2017
Two times Gold Award, The Societies of Photographers, UK, 2017
Three times Highly Commended, The Societies of Photographers, UK, 2017
Silver Award – Landscapes Category, Better Photography, Australia, 2017
Silver Award – Classic Landscapes Category, Better Photography, Australia, 2017
Finalist worlds top 10 landscape photo contest – Winter landscape, One Eyeland, 2017
Finalist worlds top 10 landscape photo contest – Autumn landscape, One Eyeland, 2017